Relax and Make Amazing Memories
Gatsby Place

Step into the glamorous era of the Roaring Twenties with our exquisite Gatsby-themed unit. Situated in the heart of wine country and a stone's throw away from beautiful local wineries and popular beaches, this luxurious space offers you the perfect blend of elegance and convenience. Indulge in delicious meals at nearby restaurants, explore the natural beauty of Grand Mere State Park just a few miles away, and experience the charm of the Gatsby era right at your doorstep.
---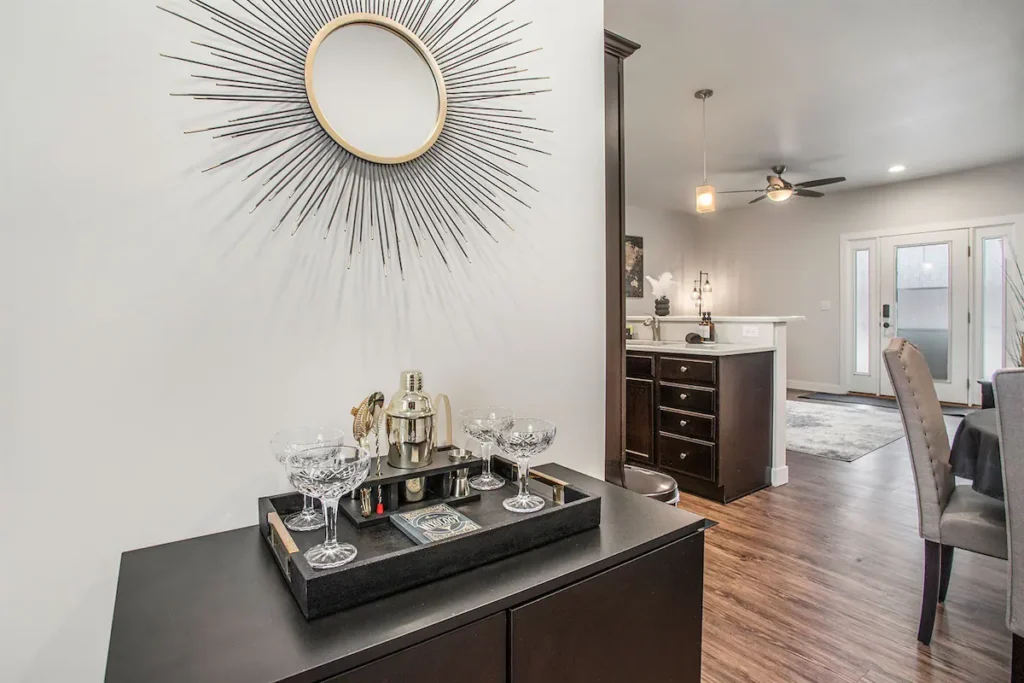 A Luxurious Oasis with Modern Amenities
Step inside and discover a world of modern comfort. Our Gatsby-themed unit is equipped with all the amenities you need for a relaxing stay. Enjoy the convenience of a stackable washer and dryer, ensuring that your stay is as comfortable as it is stylish.
Elegance and Style in the Primary Bedroom
The primary bedroom is your personal retreat. A cozy queen bed beckons you to unwind after a day of exploration. A stylish desk adorned with a gold mirror adds a touch of sophistication and charm, perfect for getting ready for your adventures in true Gatsby style.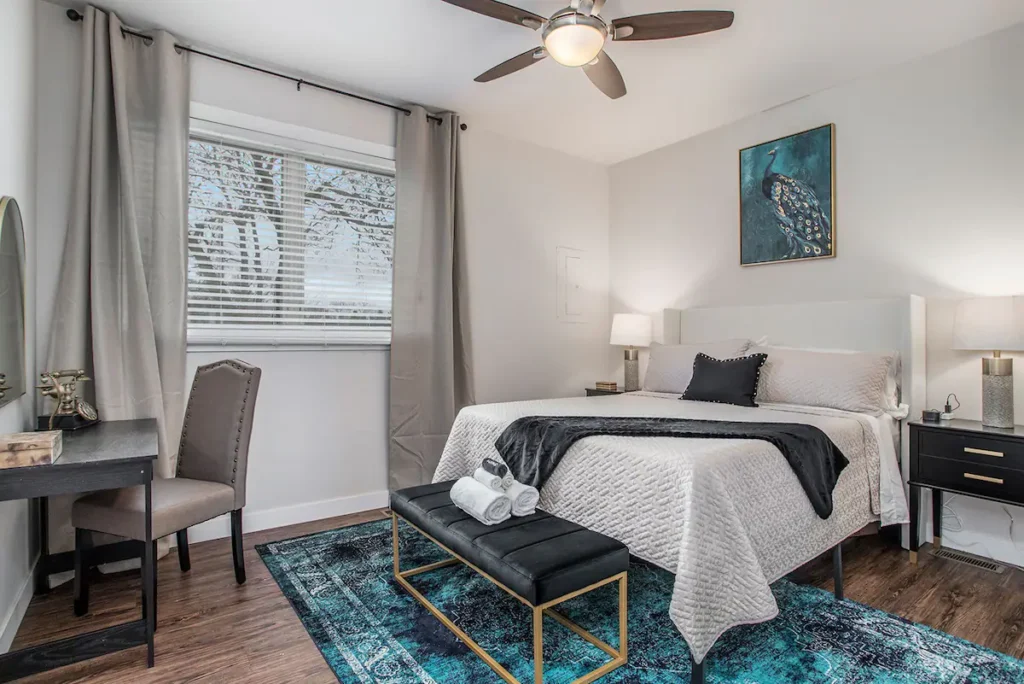 "We loved our stay at the Gatsby place. Everything is clean, relaxing, and the location can't get any better. The beaches, shops, and restaurants are just a short drive away, which is nice for getting away from the craziness of downtown St. Joseph if you're spending time there. Instead you can just sit on the back porch of the Gatsby and watch the sunset over Lake Michigan.
Tony is a great host and gave clear instructions for checking in, as well as some local recommendations. We would definitely recommend the Gatsby place for anyone wanting to spend time in this part of Michigan!"

– Bryan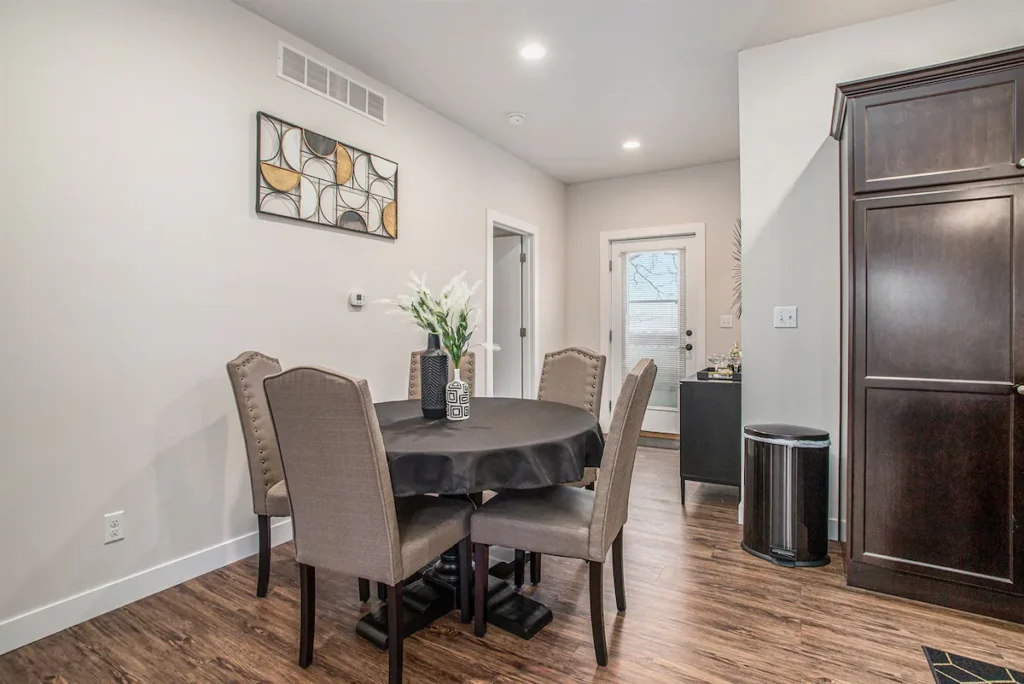 Sophisticated Dining and Entertaining
Gather around the dining table that comfortably seats 5, creating the perfect setting for intimate meals and shared moments. If you prefer a more casual setting, the bar counter seating for 2 offers a cozy spot for conversations over drinks.
Elegant Black and Gold Theme
The black and gold color scheme that runs through the unit adds an air of sophistication and elegance. It's a perfect homage to the opulence and style of the Gatsby era, creating an ambiance that's both timeless and enchanting.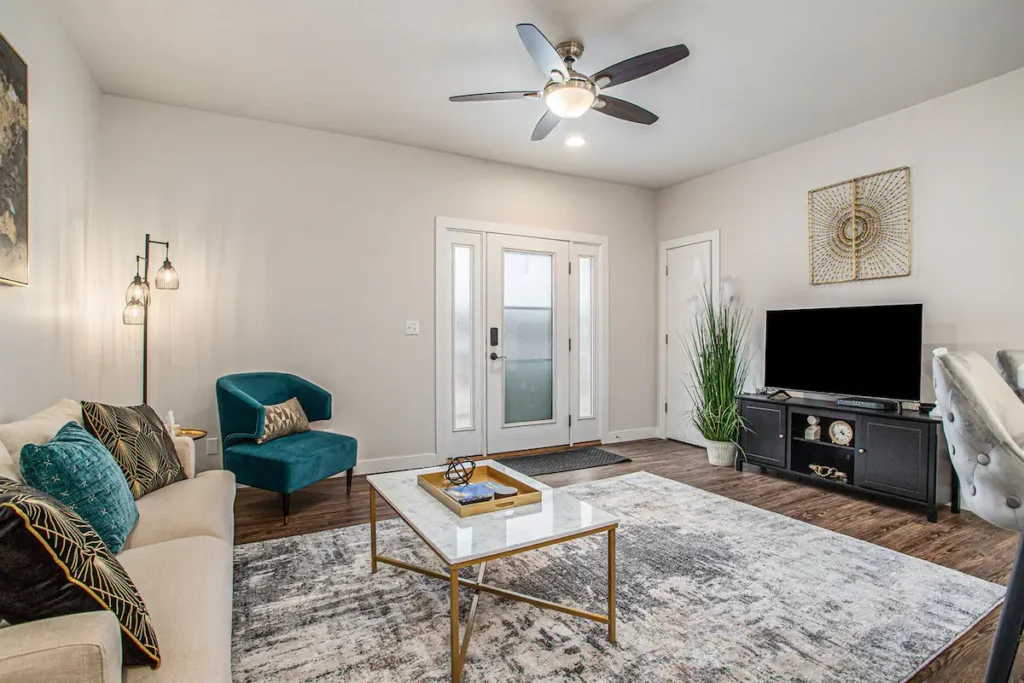 Relax and Refresh
The tub and shower combo in the bathroom invites you to relax and refresh. And when you step outside onto the balcony, you can take in the fresh air and enjoy moments of tranquility.


Culinary Adventures Await
The fully-equipped kitchen is a haven for culinary enthusiasts. Whether you're preparing a quick snack or indulging in a gourmet meal, you'll find everything you need to channel your inner chef and create delicious dishes.


A Romantic Getaway or Family Retreat
Whether you're seeking a romantic escape or a memorable family vacation, our Gatsby-themed unit offers a unique and unforgettable experience. Immerse yourself in the charm of the Roaring Twenties while enjoying the convenience of modern amenities. From wine country explorations to beach adventures, your Gatsby-inspired stay promises to be a journey of elegance and relaxation. Book your stay today and step into a world of glamour and style!

WHY GUESTS LOVE THE HOME
"Very convenient location. The open floor plan made it possible to host a family get-together and the ramp made it possible for my mother to get in and out easily. Tony was very responsive. We'd likely stay there again."
– Amy
"The condo was exactly what the pictures portrayed, it was clean and very well maintained. The decor is beautiful and makes you feel like you are home. Short distance to beautiful beaches and state parks. Quiet surroundings at the condo. We enjoyed our stay very much, and will be back."
– Cyndi
Your Hosts
We are thrilled to welcome you to Gatsby Place, our cherished retreat near the shores of Lake Michigan!
As your hosts, we are here to assist you with any questions or concerns you may have before or during your stay at Gatsby Place. However, once you've checked in and settled into your serene escape, we'll give you the space to unwind and fully immerse yourself in your well-deserved vacation.
Gatsby Place is strategically located in the quaint town of Stevensville, Michigan, just a short drive from some of Michigan's most stunning beaches. While our tranquil retreat offers the perfect balance of relaxation and entertainment, it also allows you to escape the hustle and bustle of everyday life. We can't wait for you to experience the unique charm and allure.
-Tony & Lindsay

READY TO GET STARTED?
ENJOY A RELAXING GETAWAY