Relax and Make Amazing Memories
Donna Drive – Southshore Getaway: Poolside Playhouse: Beach Getaway, Firepit & Games

Welcome to "Donna Drive – Southshore Getaway," your ultimate destination for a remarkable blend of fun and relaxation! Prepare to be captivated by this enchanting oasis, featuring a 3-bed, 2-bath paradise that promises an unforgettable vacation experience. Indulge in a world of excitement and leisure, where every moment is filled with joy.
---

THE EPITOME OF LUXURY
THE SPACE
Step into a realm of boundless possibilities as you enter through the keyless entry of this sun-soaked haven. Unwind in the spacious living room, complete with a 65″ streaming TV and access to Netflix. The well-appointed kitchen beckons, inviting you to create delightful meals while sipping your morning brew from the convenient Keurig coffee station.
A MESMERIZING OUTDOOR HAVEN
EXQUISITE AMENITIES
The true pièce de résistance awaits you in the form of a stunning pool, luring you to immerse yourself in its crystal-clear waters. Indulge in moments of bliss as you recline on the comfortable sun loungers or savor a delectable meal in the outdoor dining area. Gather around the cozy fire pit for engaging conversations under the starry night sky. The gazebo, complete with a sitting area and TV, provides the perfect setting to unwind on balmy evenings.


BOUNDLESS INDOOR ENTERTAINMENT
ENDLESS JOY
When it's time for indoor entertainment, the possibilities are endless! The basement lounge boasts a sleek game room, featuring a 65″ TV, air hockey, and foosball tables, as well as the Nintendo Switch loaded with an array of fan favorites. For an epic gaming experience, venture into the transformed garage, which offers pool, ping pong, and darts.

"Great place to stay, you provided EVERYTHING ,
kids loved the games and pool .. Many things to do near by like boat rental , beach, ATV rental , kayak and paddle boarding.. Thank you for the food ideas!! There was Great and speedy communication would highly recommend and would love to return!!!!
Great memories!!"

–Erica
REJUVENATING HAVENS
PEACEFUL RETREATS
At the end of an exhilarating day, retire to one of the three inviting bedrooms, each thoughtfully decorated and designed to ensure a restful night's sleep. The first and second bedrooms feature plush queen beds, perfect for sinking into after a day of fun. The third bedroom offers a cozy twin-over-twin bunk bed and a twin daybed with a trundle, making it an ideal haven for kids or additional guests. Each bedroom is equipped with a television, allowing you to enjoy your favorite shows as you drift off to sleep. The soothing color schemes, luxurious linens, and tasteful decor create a warm and welcoming ambiance, ensuring you'll feel rejuvenated and ready for the next day's adventures.
IMPECCABLE AMENITIES
HIGHLIGHTS TO INDULGE IN:


6 streaming TVs with access to Netflix

An amazing pool area featuring sun loungers, outdoor dining, fire pit, and a gazebo with a sitting area and TV


A captivating basement game room equipped with a 65″ TV, Nintendo Switch, air hockey, and foosball tables

A garage turned into an epic game haven, offering pool, ping pong, and darts

A Keurig coffeemaker to brew your favorite beverages

Central AC for your comfort

On-site washer and dryer for your convenience
Embark on an extraordinary journey at Donna Drive – Southshore Getaway and create memories that will last a lifetime. Immerse yourself in the magic of this exquisite retreat, where joy and relaxation intertwine in perfect harmony.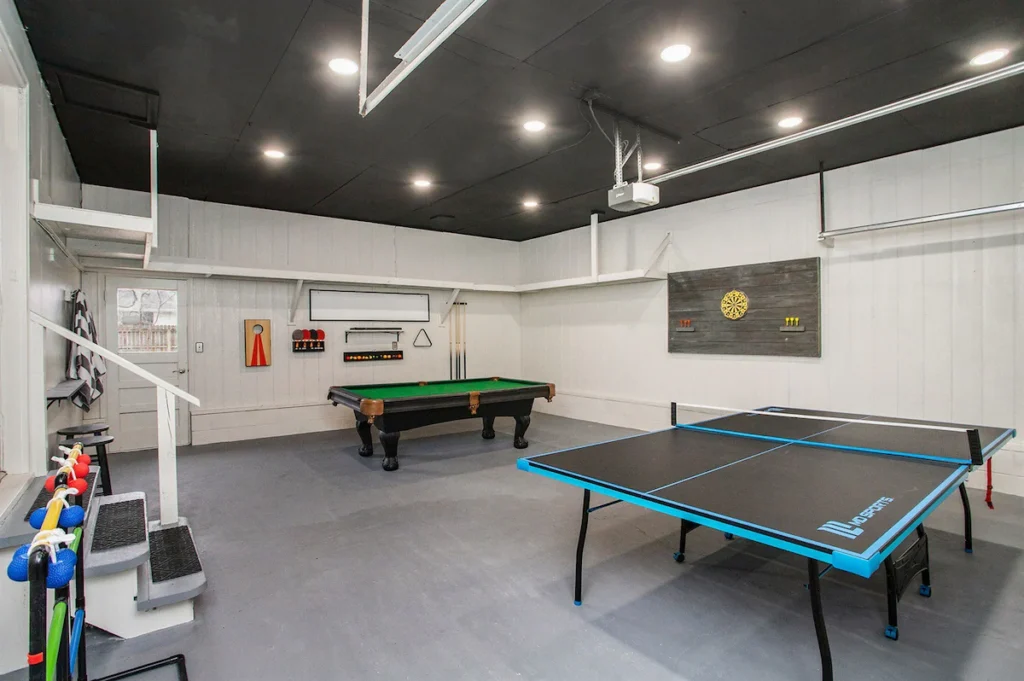 Why Guests Love The Home
"Our stay here for the weekend was great. The house was clean, the host has everything clearly labeled to make navigating the house super easy & was easily reachable with any questions or concerns we had. The amenities in the home were also wonderful! Would definitely recommend the place to anyone."
– Marina
"From the start, Tony was on point helping us through the registration, preparation and access processes. The gift bag was excellent and there were a variety of additional amenities that were unexpected and absolutely lovely. Quick to respond, the hosting could not have been any better. We will definitely consider returning in the future. Thank you for an excellent and memorable time!"
– Brian
Your Hosts
We are thrilled to welcome you to Donna Drive – Southshore Getaway, our cherished retreat near the shores of Lake Michigan! We are eager for you to experience the comfort and serenity of our home, and we hope that you and your loved ones have an unforgettable vacation, just as our family does.
As your hosts, we are here to assist you with any questions or concerns you may have before or during your stay at Donna Drive – Southshore Getaway. However, once you've checked in and settled into your serene escape, we'll give you the space to unwind and fully immerse yourself in your well-deserved vacation.
Donna Drive – Southshore Getaway is strategically located in the quaint town of Stevensville, just a short drive from some of Michigan's most stunning beaches. While our tranquil retreat offers the perfect balance of relaxation and entertainment, it also allows you to escape the hustle and bustle of everyday life. We can't wait for you to experience the unique charm and allure of Donna Drive – Southshore Getaway and create cherished memories that will last a lifetime.
-Tony & Lindsay

READY TO GET STARTED?
ENJOY A RELAXING GETAWAY