Relax and Make Amazing Memories
Beach Cove

Discover the inviting haven of Beach Cove, a spacious and welcoming ground-level condo designed to provide you with the ultimate relaxation, dining, and memory-making experience. After a day of adventure in the area, sink into the embrace of our luxurious and plush sectional couch, offering abundant space for your loved ones to gather and share tales of your escapades.
---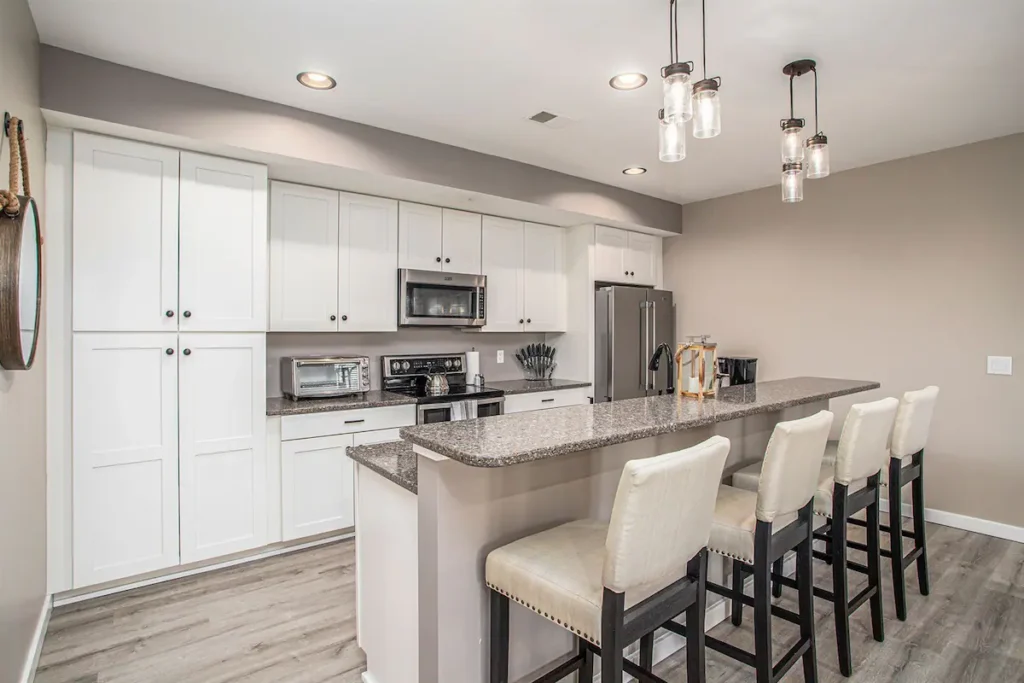 UNWIND AND CONNECT
A bar-top seating area for four offers a casual setting for meals and lively conversations. The six-seater dining table fosters a warm and inviting atmosphere for family meals and socializing, creating lasting memories. Immerse yourself in the cozy ambiance enhanced by strategically placed plants, which infuse the space with a sense of tranquility and a touch of nature.
PRIMARY RETREAT
The primary bedroom awaits with a comfortable king bed, inviting you to rest and rejuvenate after your day's exploits. A versatile desk space adorned with a mirror offers a convenient area for preparing for the day ahead or catching up on work, catering to both relaxation and productivity.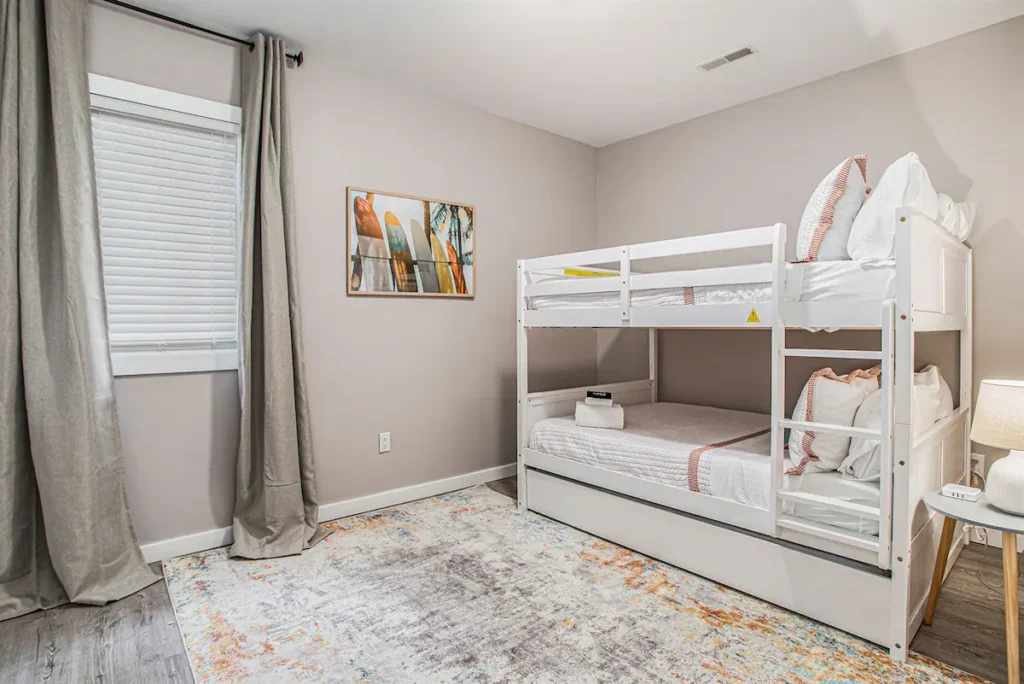 PLAYFUL OASIS
The second bedroom exudes a playful surf theme, perfect for kids or extra guests. The full-over-full trundle bunk bed ensures ample sleeping space, guaranteeing everyone a comfortable resting spot. Vibrant decor adds an element of excitement, creating a joyful atmosphere for young guests.

"Beautiful place. Stayed with my partner and our two young kids. At first was afraid it was too nice for our kids, but found toys and kids plates that helped them feel right at home! Beds were REALLY comfortable and all the general basics you'd need (pots, pans, tin foil, olive oil, shampoo, conditioner, hair dryer, coffee, tea, etc) were provided and looked new. Place was set up well, great for families or adults sharing a space, and was a short drive to beaches and other places on the coast. Tony was incredibly responsive and even gave us a little welcome gift! Thanks for the great stay."

-Michele

EFFORTLESS CONVENIENCE
Our well-equipped bathroom comes with essential amenities, ensuring a convenient and efficient stay. A washer and dryer are provided, allowing you to pack light and manage your laundry needs easily. The tub and shower combo offers a choice between a quick invigorating shower or a soothing soak. The Jack and Jill sink design enables multiple guests to prepare simultaneously, saving precious time during your mornings.
CULINARY DELIGHTS
For the culinary enthusiasts, our fully stocked kitchen is a dream come true. Whether it's a quick snack or a gourmet meal, you'll find everything you need at your fingertips. High-quality appliances and utensils ensure an enjoyable and effortless cooking experience, enhancing your stay.


YOUR HOME AWAY FROM HOME
Our commitment is to provide an inviting and comfortable environment, a true oasis where you can unwind and embrace the essence of vacation. We hope you'll choose our vacation rental as your sanctuary away from home. We eagerly await the opportunity to welcome you, and we're excited to be part of your unforgettable journey.

WHY GUESTS LOVE THE HOME
"We had a great time! The home is clean and fully stocked with any and everything you'd need to feel right at home. Tony was so pleasant to communicate with and even accommodated a special request we needed. The home is close to everything. We enjoyed climbing the dunes at the State park and going to Silver Beach. Thanks for a great stay!"
– Nicole
Your Hosts
We are thrilled to welcome you to Beach Cove, our cherished retreat near the shores of Lake Michigan!
As your hosts, we are here to assist you with any questions or concerns you may have before or during your stay at Beach Cove. However, once you've checked in and settled into your serene escape, we'll give you the space to unwind and fully immerse yourself in your well-deserved vacation.
Beach Cove is strategically located in the quaint town of Stevensville, Michigan, just a short drive from some of Michigan's most stunning beaches. While our tranquil retreat offers the perfect balance of relaxation and entertainment, it also allows you to escape the hustle and bustle of everyday life. We can't wait for you to experience the unique charm and allure.
-Tony & Lindsay

READY TO GET STARTED?
ENJOY A RELAXING GETAWAY